Welcome to ABC Kid's Dental!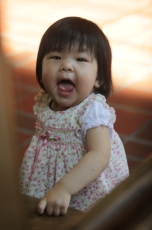 We proudly provide quality pediatric dental care to the community of Irvine, CA and surrounding areas. Our office specializes in dentistry for infants, children and adolescents.
Our featured services include preventative children's dentistry, oral hygiene and maintenance, management of growth and development, sedation and general anesthesia as well as emergency care. We strive to make our office a comfortable environment where your child can develop a healthy future smile.
We'll be glad to hear from you if you have any questions.
Our Mission
At ABC Kid's Dental, our mission is to create an exciting and rewarding experience for your child. We give the highest quality of dental care by utilizing the latest dental technologies. We offer a stress-free environment for your child. We have a variety of books to read, movies to watch, and games to play. We have a kid- friendly environment where your child will feel at home. We want your child's first dental visit to be pleasant and comfortable.